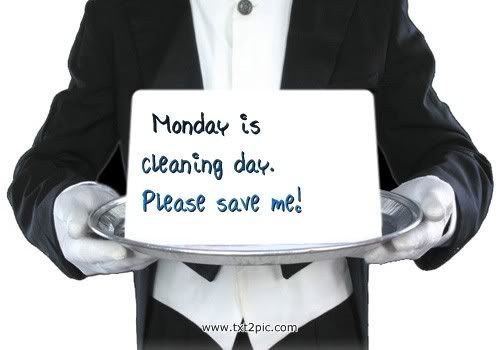 Today:
1) clean walls
(we moved into this place and the ceiling was yellow and the walls were yellow.. the doors are strangely stained yellow too. The carpet in our room was replaced so im thinking someone died here (ew) and it took awhile to figure that out? (double ew.. but maybe im just been brainwashed by the many years of constant death-shows on tv (csi, SVU etc etc).. far out!) its the whole house.. its like the person before (single dad i believe) never had a hot shower! as with our hot showers in the bathroom the yellow has been seeping down the walls and dripping off the ceiling (the bits i couldn't reach) and thats what im cleaning today..
2) Clean up the usual weekend-mess-of-a-house.
Tia's toys are everywhere, cables and leads everywhere. i dont know how it happens but when hubby is home not a inch of my body wants to clean the house! so it gets messy (unless i know someone is visiting, which is not often)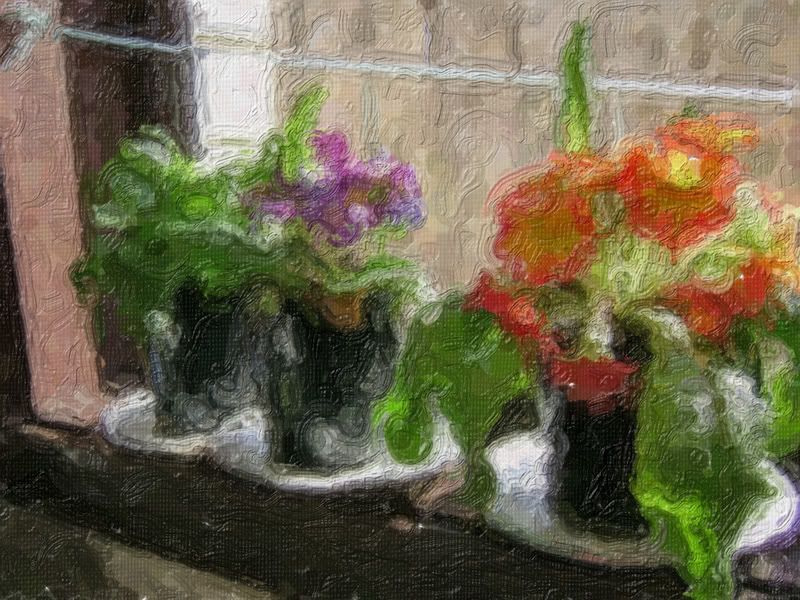 3) Clean the bathroom, toilet, basin etc
4) Do the dishes..
5) Go to the laundry mat
(1st need to figure out what to take to keep me dying of boredom or dying because Tia is bored and decides to be a brat)
6) get Tia to water her plants
(1 a pansy the others i have no idea but they are great at flowers which is why she picked them)
7)Vac the house
with my little vacuum (the ones only to clean up spills of food kind) yes i have to bend down, and yes if someone recorded me zipping around the house just as its about to run out of batteries i would win Aussie funniest home videos.. (so hubby says)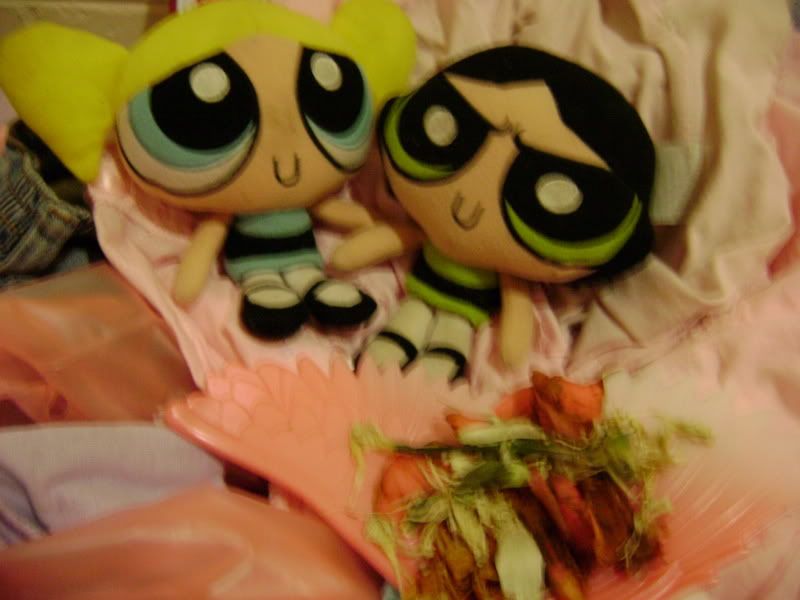 8) Get tia to clean her room.
last night i found this. (we have built in robes but its mainly a hanging closet-thing and even when i do hang up all her clothes she cant reach them. so they stay in her suitcase as we havent gone out and gotten anything else yet) so this is on top of her suitcase. Bubbles and Buttercup are having flowers pulled apart served on a plate (a wing from her transforming horse/pegasus/unicorn toy)
9) Take out the bins and put at curb.
10) Organise all these cables and leads.
11) Fix my painting up so it lines up straight with even gaps between them
12) Find any artwork of Tia's on the walls and scrub off
13) Organise all the paper stuff in our room (bills, payslips etc)
14) See about getting Tia into the community childcare centre so she has someone to play with.
~* WISH ME LUCK *~
----------------
Now playing:
Evermore - Light Surrounding You
via FoxyTunes