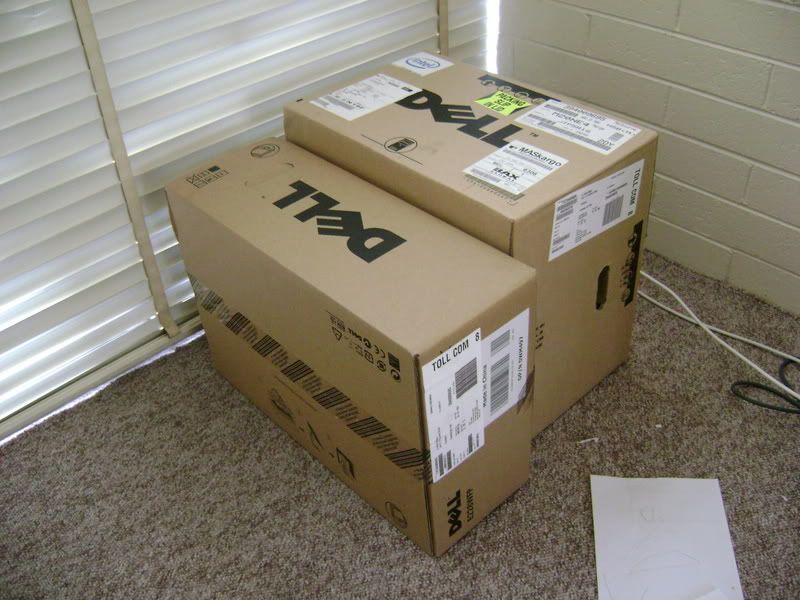 I take it all back... the new computer is here yay! and i just finished putting it all together, horray! and now im doing the slow process of putting over alot of my B-I-G files and downloading stuff i need to install on the new computer..
this is how things happened:
1) i heard the garbage collector finally at 2pm doing our street (it does the other side of the road mind you at like 8am! or something)
2) i decide to go out. change out of trackies i wear around the house into jeans..
3) waiting around for little miss to get her sandals on (and not her shoes as i dont want to wait around for another 30mins)
4) a knock at the door, that i swore was going to be a druggy wanting to know what happened to the druggy/sex worker next door who left 2 months or more ago.. BUT
it was a courier.. and boxes with dell written on it.. come on dude.. dont mind how my 4 year old has spread her paper all over the floor.. its art, ok? no seriously dont pick up after my 4year old.. just leave the boxes on the ground.. argh!
so i ring hubby and tell him im going out.. and he is like what? no! and i said u went off at me yesterday coz u r the one who always goes down the road to get milk.. oh, ok.. sure.. why be suprised? i can walk down the road.. ^^
so as usual something happens as i try to leave the house, had i tried to leave earlier we would have had to fork out another $50 or so to get it delivered again just from the depo ><
i found the packaging interesting... im glad the bag doesnt contain that strange bag person and a bag baby... but why warn me of whats not in the bag? or do i keep this away from the bag people? jus jishing-ya