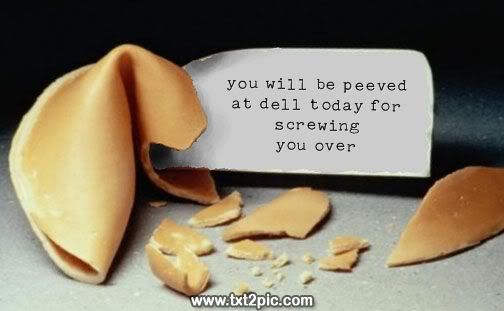 *i keep gettin errors trying to post this*
i think im going to be like stuck mostly at home all week, while the online delivery time estimator makes up its mind. It has said it would be today for a few days now and only this morning it gets changed to a weeks time! they can process the order, make and fly it in 4 days and yet its going to take a week to be delivered by a local courier.. and no doubt if i dont lock myself at home they will ring and i wont be home and then it will be another day of waiting.
i cant help being impatient, im tired of my laptop with no grunt, balls whatever u wanna call it.
Have u seen the latest target catologue? oh they have new spiffy exercise equipment, they look kinda funky too...
hmm, black ops on china planes now? hmm what next. did u hear that one of the factories responsible for the lead paint mattel accident actually committed suicide? my point? China is the biggest threat to USA. If USA goes under, China will buy it out. :( Have you not been paying attention to all the mumble jumble economy stuff of the past year or 2? *silly rant over*
*goes off to plan this weeks dinners*
(otherwise it will be 5am and im like oh no what am i cooking for dinner?!)